Ducks vs Oilers: 7:05pm....talk about drama!!
The Copper and Blue and Anaheim Calling -- wait, SBN has two golf blogs?!
If I'm not gonna make the playoffs..neither will you!!
The Ducks looked like they might ride another second-half hot streak into the playoffs, but it's not going to happen.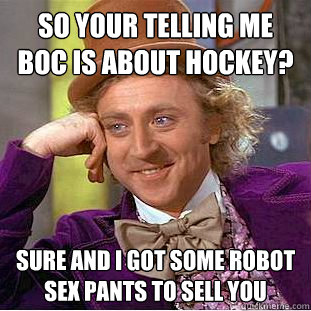 some thoughts on all BOC teams before this story gets buried underneaths Earl's gameday [Note from Earl: Surprise! This is the gameday!]
Ducks:
the blocked headline under "not Scorey enough" Perry from yahoo pretty much sums it up..no one here really thought the ducks would be able to overcome the huge hole they were in..but still we dreamed..but losing 3 of the last 4 really was the last de niro gunblast...
think of the ducks as Bats from goodfellas in the trunk of the car kicking..trying to stay alive...and buffalo as henry hill,, colorado as tommy stabbing away and the kings as deniro finally making sure bats(ducks) are dead...we can only hope the ducks come back to haunt everyone and have to have our body moved cuz of new construction...and end up getting Tommy(colorado) whacked at the end...wait...the Kings should be tommy then..we want them whacked
Spade's drink of choice after deducing this:
Gin and Tonic (bombay Gin only)...cuz its cool and refreshing and opposite of the fuckin ducks right now....I did enjoy the "good-play" ride...
Kings:
fuck them...of all the BOC teams with new addition Carter and the subtraction of the hunchback of notre-I-cant-play-defense ..looks like there the one BOC team who will make the playoffs...
Spade's drink of choice after deducing this:
Pabst blue ribbon, cuz I dont care about the kings..and I dont care what Im drinking if Im drinking blue ribbion
hahahahahahahaha
Spade's drink of choice after deducing this:
Corona cuz I think its what brossam Winnik drinks when he wears those shorts...also he probally thinks carne asada tacos are bitchin
best one yet..hands down..at least the sharks have this guy to get thru sucking
and this is for me..to make me smile...
thanks Earl for old times sake
Duck win 4-2....four goals by Brookbank Mountain